Jun 27 2009
As Jon couldn't do this event I decided that I would attend in his place. I am pleased that I did as it was a great day.
We arrived early being about the 3rd car onsite. I swapped over the tyres from the road Michelins to my set of R888's. Whilst doing this the paddock slowly filled up.
One of the other drivers popped over to borrow a 10mm spanner as they were having clutch troubles. They seemed impressed with the selection of stuff I had brought (a consequence of supporting Jon at his Time attack rounds) but I was just pleased I was able to lend them stuff to help get them out onto track.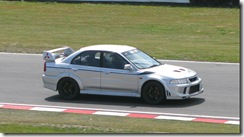 Briefing took place promptly and we went out shortly after for our 2 sighting laps.
Jon had arrived after briefing so he jumped in the car with me for my first short session.
This was the first proper time at Brands Hatch as the previous session had been an "arrive and drive" session where my car had almost shaken itself apart, an issue later identified as pad deposits.

We popped around for several laps and then came in to let the car cool a little before my Driver training which I had arranged. The training went well and I got some top tips. I think I worried the instructor though when I misheard him saying that I should brake after the bridge at druids whilst carrying 85 – 90 mph past it. Apart from that the session went well. I can't recommend these tuition sessions highly enough – it makes the track time so much more worth while when you have the "inside knowledge".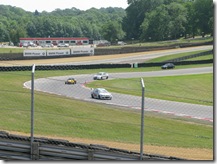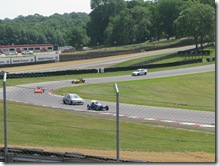 The remainder of the open pit lane day consisted of me popping out and back in for some cooling down! The Brembo brake system on my EVO 6 is still standard with the exception of the front discs which I changed for the Performance Friction discs as my previous ones had the pad deposits. Even though this is the case with the road/track pads they still overheated and gave me a long pedal in the last session which only came to light after my cooling down lap. The pit lane entrance is quite a tight chicane so some crazy pumping of the pedal meant that I didn't have an "incident" in the pit lane!
I guess I will have to look at better brake fluids (although it has up rated stuff in there already) Mark at Owen developments who looks after my car has some "better" now and we will look at swapping over the front brakes for Ferodo DS3000's for track specific use. More expense but well worth it.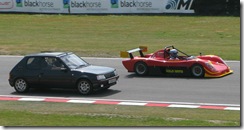 Highlights to the day was taking the paddock hill bend it is amazing, and then climbing up to druids and then into the fast flowing section of curves through to the fast pit straight. It is a must do track for everyone! I am even eying up the full GP circuit for later this year!
In conclusion a really enjoyable day professionally run with very friendly people. Good to meet Time Attacker Russ Paton as well who also drives a silver Evo although somewhat faster! Can't complain though really as mine is bog standard with the exception of the suspension – Best time I could manage whilst playing it safe was around 59 seconds.